VESSEL CLASS
KM Icebreaker6 [1] AUT1-ICS FF3WS EPP HELIDECK Special purpose ship of the Russian Maritime Register of Shipping
PURPOSE OF THE VESSEL
Icebreaking support for the basing and deployment of fleet forces in ice conditions, independent escort of ships, towing ships and other floating structures in ice conditions and in clear water, extinguishing fires at emergency facilities.
Additional tasks: Containment of spills and collection of oil products with a flash point of more than 600С from the sea surface (OSR equipment in a container version, with storage at the base), helicopter reception (without base and refueling), transportation of containers on the open part of the upper deck, including refrigerated containers with appropriate power supply, as well as other deck and hold cargoes.
SHIP DEVICES
Anchor-mooring winch, pcs. x kN 2x200
Mooring capstan, pcs. x kN 2x190
Towing winch, piece 1
Reentry-type life rafts, pcs. x pers. 4x25
Lifeboat, pcs. x pers. 4x41
Rescue boat, pcs. x pers. 1x6
Service boat, pcs. x pers. 1x14
Thruster, kW 700
Cargo devices:
Stern electro-hydraulic double-hook cargo crane

maximum boom reach, m 21.0
capacity on the main/auxiliary winch, t 26/5

Cargo electro-hydraulic crane with a telescopic boom, capacity, t / max. boom reach, m 2.0x21.0
Oil spill response equipment (OSR): Container OSR complex based on three standard 20' ISO containers, Boom-laying boat with a capacity of 10 people
Research support means:
Hydrological laboratory based on a standard 40' container
Hydrographic boat project 21961 2
Self-propelled scow pr. 20930 1
Launching devices for hydrographic equipment, pcs. x t 1x0.5 1x1.0
Hydrographic equipment based on multibeam echo sounder Sea Bat 7111
PLANT-BUILDER
JSC "Admiralty Shipyards", St. Petersburg. The icebreaker was built in 2017.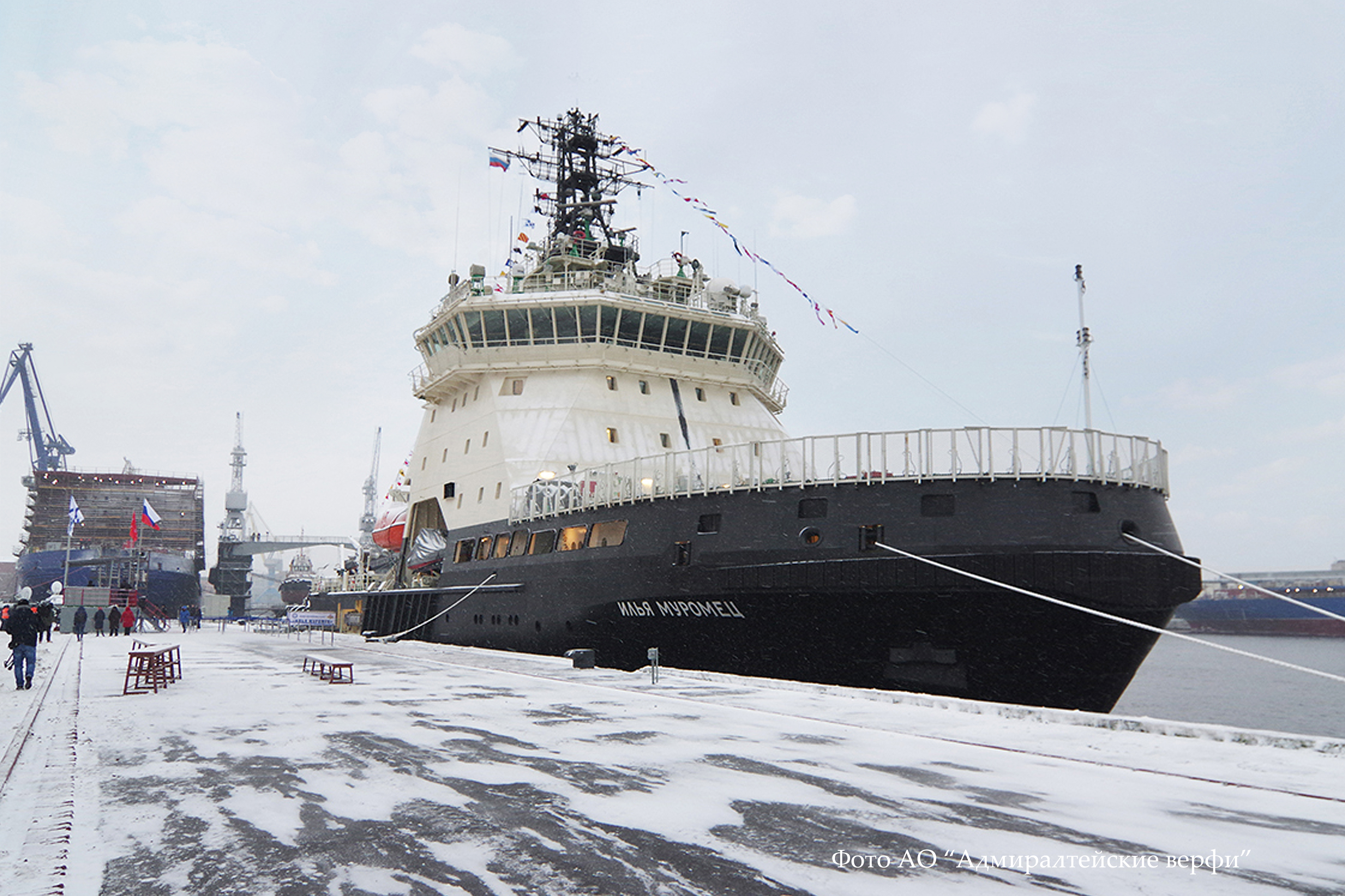 Main Features
Maximum length, m 85.0
Length according to design waterline, m 78.8
Maximum width, m 20.0
Estimated width, m 19.2
Board height, m 9.2
Design draft according to design waterline, m 6.6
Travel speed full / economic, knots 15/11
Autonomy in terms of fuel reserves, days thirty
Cruising range at economic speed, miles 9000
Crew, pers. / additional crew, pers. / seats 35/47/84
Ice penetration, forward / reverse, m 0.9 / 0.7
Draft on mooring lines, kN approx. 930
Power plant
Main diesel generator, pcs. x kW 4x3000
Parking diesel generator, pcs. x kW 2x500
Emergency diesel generator, pcs. x kW 1x300
Steam boiler, pcs. x steam capacity, kg/h 2x3000
Chief Designer
M.V. Bakhrov
Gallery