VESSEL CLASS
KM Icebreaker6 [2] AUT1-ICS FF2 EPP ECO HELIDECK Special purpose ship of the Russian Maritime Register of Shipping
PURPOSE OF THE VESSEL
Performing a wide range of research work in the Arctic Ocean by an expedition aboard an ice-resistant self-propelled platform (LSP):
Self-guidance of large-tonnage vessels.
Towing of ships and other floating structures in ice conditions and in clear water.
Extinguishing fires on floating objects and other structures.
Carrying out work to provide assistance to ships in distress in ice conditions and in clear water.
Transportation of containers on the open part of the upper deck, including refrigerated containers with appropriate power supply, as well as other deck cargo.
ARCHITECTURAL AND CONSTRUCTION TYPE
A two-deck vessel with an elongated forecastle, with an average location of the engine room, with two full-revolving rudder propellers in the stern and a thruster in the bow, with an accommodation superstructure shifted to the bow, a helicopter landing pad in the bow and an open deck in the stern.
SHIP DEVICES
Anchor-mooring winch, pcs. x kN 2x125
Mooring winch, pcs. x kN 4x125, 2x125
Towing winch, pcs. x kN 1x350
Lifeboat, pcs. x pers. 2x60
Drop-type inflatable life raft, pcs. x pers. 6x20
Rescue boat, pcs. x pers. 1x6
Work boat, pcs. x pers. 1x12
Electrohydraulic folding crane (capacity x boom outreach) 3 t x 16 m, pcs. 2
Cargo electro-hydraulic crane with a folding boom:

main hook, l / p, t x boom radius, m 26x32
auxiliary hook, load capacity, t x boom outreach, m 3x33

Cargo beam crane, capacity, t 0.4
Helipad for receiving helicopters Ka-32, Mi-8, Mi-38
Construction plant
"Vyborg Shipbuilding Plant", Vyborg.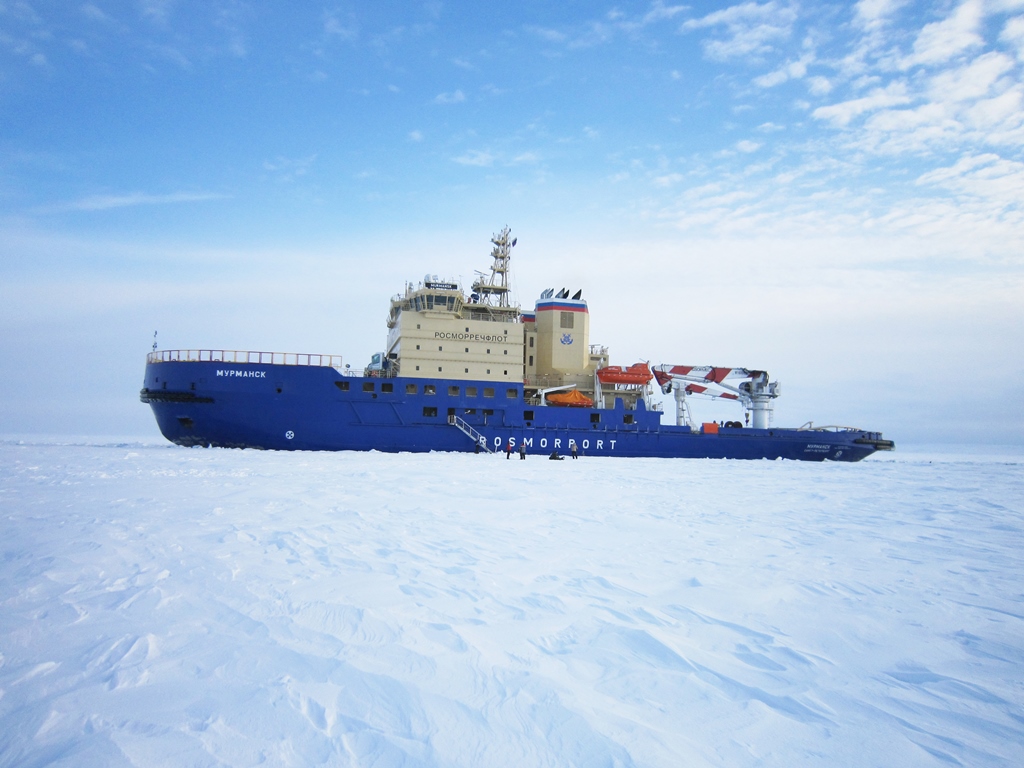 Main Features
Maximum length, m 119.8
Length between perpendiculars, m 104.0
Maximum width, m 27.5
Width on design waterline, m 26.5
Board height, m 12.4
Draft, m8.5
Draft at mooring lines, t 120
Speed, knots OK. 17
Cruising range, miles approx. 11000
Endurance in terms of fuel/provisions, days 40/45
Crew, people / number of seats 35/58
Ice penetration in forward/reverse, m 1.5/1.3
Power plant
Rowing electric motor, pcs. x kW 2x9000
Main diesel generator, pcs. x kW 4x6750
Parking diesel generator, pcs. x kW 2x760
Emergency diesel generator, pcs. x kW 1x200
Thermal boiler unit, pcs. x kW 2x4000
Chief Designer
Milavin S.A.
Gallery