VESSEL CLASS
KM Ice3 [1] AUT1 (REF) ECO Fishing vessel of the Russian Maritime Register of Shipping
PURPOSE OF THE VESSEL
Catch of pollock and production of frozen fish products from pollock: fillet, minced surimi, roe, fish meal. Catch of Pacific herring and Lemonema, and production of frozen products from them.
It is planned to receive squid from other vessels and release frozen products from it.
FISHING EQUIPMENT
Trawl (warp) winch, pcs. 2
Network drum, pcs. 2
Network drum (for storing a spare network), pcs. 1
Gilson winch, pcs. 2
Overcasting winch (exhaust), pcs. 2
Auxiliary winch, pcs. 2
Guy winch (trawl ejection), pcs. 2
Cable winch, pcs. 2
Winch of the catch extraction device (trawl opening), pcs. 2
Design stage
The technical project was developed within the framework of the federal target program "Development of civil marine equipment" for 2009-2016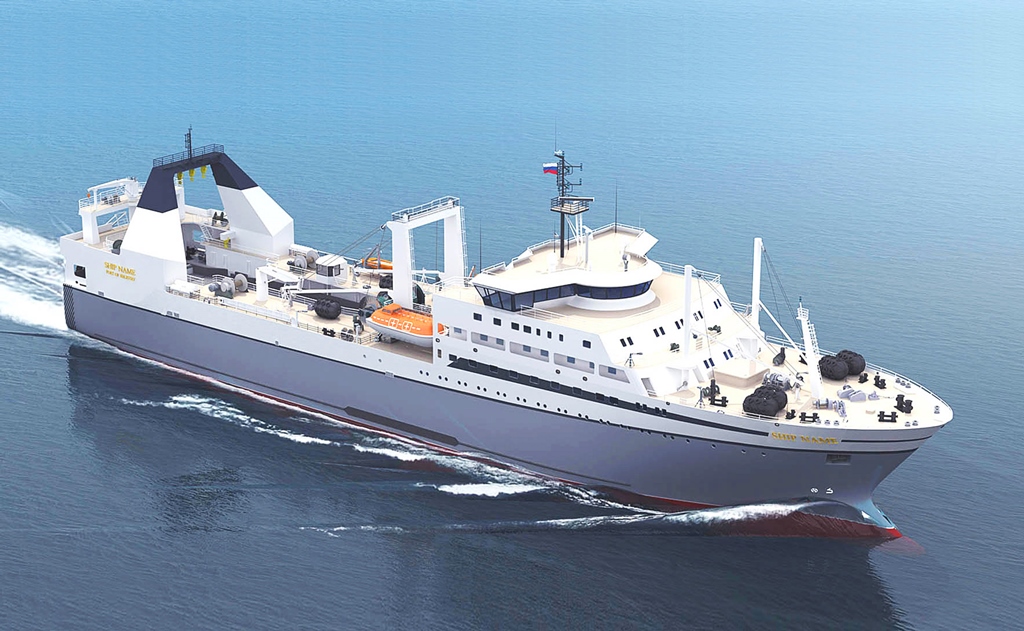 Main Features
Maximum length, m 119.9
Length between perpendiculars, m 112.6
Estimated width, m 23.0
Board height (trawl deck), m 14.8
Draft, m 8.0
Volume of cargo holds, m3 approx. 8100
Speed, knots 15
Autonomy, days 50
Crew / production personnel, pers. 53/194
Power plant
Power plant power, pcs. x kW 2x4500
Power plant capacity, MW 10.8
Emergency diesel generator power, kW 150
Chief Designer
Volkov V.V.