VESSEL CLASS
KM Ice3 [1] AUT1- ICS (REF) EPP ECO Special purpose ship of the Russian Maritime Register of Shipping
PURPOSE OF THE VESSEL
Performing multi-species trawl-acoustic surveys to assess the stocks of aquatic hydrobionts.
Study of oceanological conditions for the formation of biological and commercial productivity of waters in the study areas.
Monitoring of the habitat of commercial hydrobionts.
Assessment of the state and nature of the distribution of the food supply, food security of the main commercial fish.
Behavioral research and collection of materials for assessing the stocks of aquatic hydrobionts using a remote-controlled underwater vehicle.
Mapping of the bottom topography in the surveyed water area.
Fishing by bottom and pelagic trawls of fish and other biological objects for research purposes (for laboratory research) with subsequent freezing.
Mastering new fish-searching methods and instruments; technical research in the field of hydrobiont processing.
SHIP EQUIPMENT
Thruster, pcs. x kW 1x400.1x1800
Electrohydraulic crane, pcs. x l / p x boom outreach - 2 x 5t x 8m, 1 x 6t x 14m, 1 x 1t x 12m
Oceanographic electric winch, kN 15
Rope electric winch, kN 10
Electric winch, pcs. x kN 1x50, 2x20, 1x50, 1x30, 2x40
Plankton laser meter, set 1
Hydraulic trawl winch, pcs. x kN 2x400
Electric Gilson winch, pcs. x kN 2x120
Electric winch, pcs. x kN 4x100
Hydraulic network drum with dividing flange, pcs. x kN 1x200
Hydraulic net reel for pelagic or bottom trawl, pcs. x kN 1x300
Hydraulic cable winch, kN. 21
Dumped life raft, pcs. x pers. 6x25
Rescue/work boat, pcs. x pers. 1x8/1x6
Research premises
Operations center, ichtheological block, oceanological block, underwater video systems laboratory, hydrobiological and hydrochemical laboratories
Industrial premises
Freezer hold (-25 0C) with a volume of approx. 300 m3, freezer (-45 0C) approx. 50 m3, fishmeal plant room, fishmeal pantry (+15 0C) with a volume of approx. 100 m3.
PROJECT STAGE
Technical project developed in 2011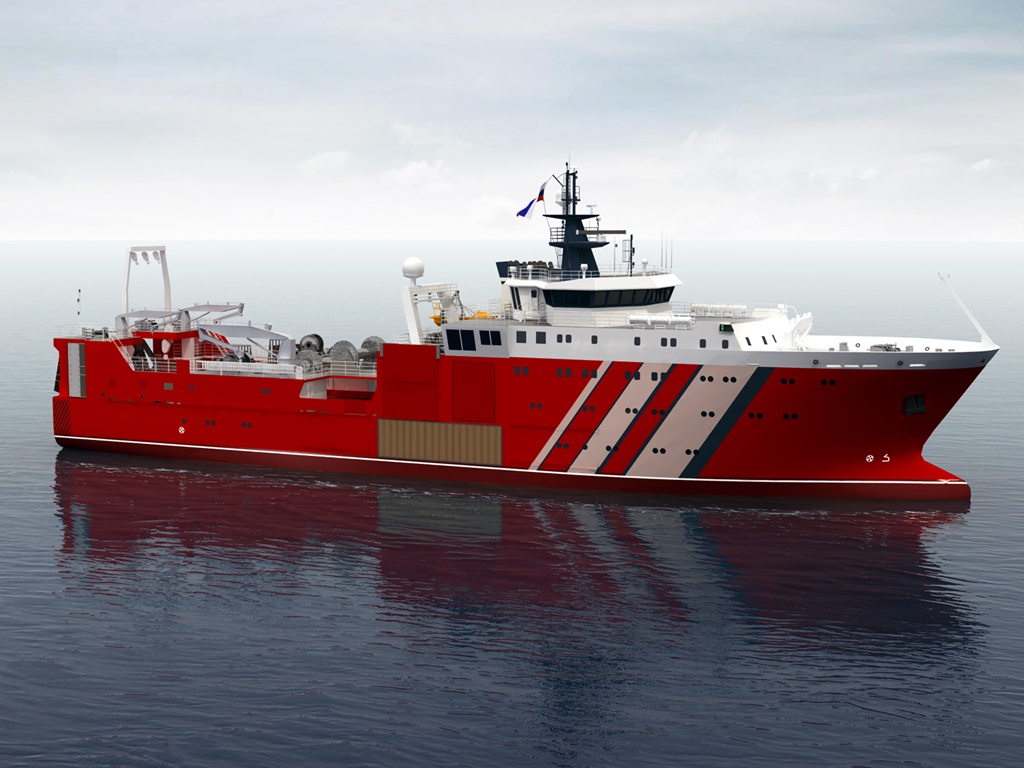 Main Features
Maximum length, m 78.0
Length between perpendiculars, m 73.0
Width on design waterline, m 16.0
Board height to the production deck, m 6.5
Board height to the trawl deck, m 9,5
Draft on DWL amidships, m approx. 6.0
Speed, knots at least 15
Autonomy, days 50
Crew / research staff, pers. 28/15
The productivity of the fish processing plant is approx. 20 t/day
Power plant
Main diesel generator, pcs. x kW 2x1520, 2x1020
Emergency parking diesel generator, kW approx. 150
Rowing electrical installation, pcs. x kW approx. 2х1600
Chief Designer
Volkov V.V.
Booklets