VESSEL CLASS
КМ Ice3 AUT1 (REF) ECO Fishing vessel of the Russian Maritime Register of Shipping
PURPOSE OF THE VESSEL
Implementation and management of fishing of oceanic and marine bioresources in the Far Eastern fishery basin.
Fishing with bottom and pelagic trawls.
Processing of fish into frozen products, incl. in the form of fillet and minced pollock and Pacific herring.
Storage of finished products and delivery of processed products to receiving and transport refrigerators at sea.
PROJECT STAGE
A conceptual design has been developed.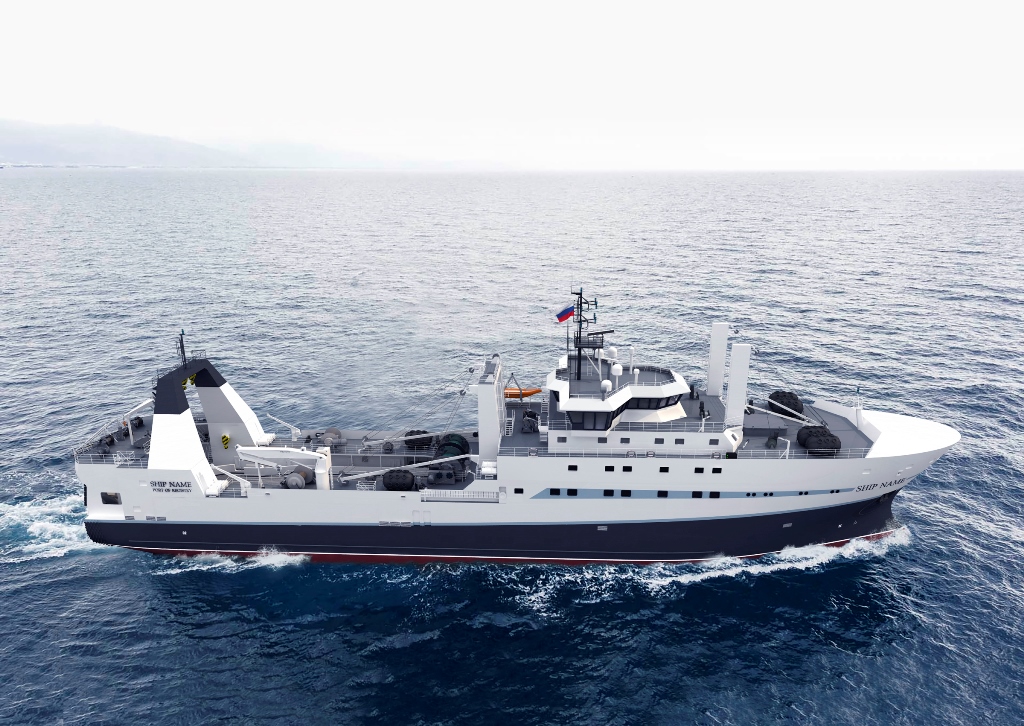 Main Features
Maximum length, m 99.0
Length between perpendiculars, m 91.9
Estimated width, m 19.0
Depth from OP to main deck, m 14.8
Draft at design waterline, m 8.0
Displacement of the vessel when returning from the fishery, t 8142
Vessel deadweight when returning from fishing, t 2527
Volume of cargo holds, m3 approx. 400
Travel speed, knots 15
Trawling speed, knots 6
Autonomy, days 50
Crew, pers. 80
Power plant
Diesel, main engine power, pcs. x kW 1x7000
Productivity of the fish processing complex, t/day. 60
Chief Designer
Volkov V.V.
Booklets