VESSEL CLASS
КМ Ice3 AUT1 (REF) Fishing vessel of the Russian Maritime Register of Shipping
PURPOSE OF THE VESSEL
Implementation and management of fishing for oceanic and marine biological resources in the Northern Fisheries Basin, fishing with bottom and pelagic trawls, processing fish into frozen products, incl. in the form of fillet and minced meat from cod and (or) haddock, fish meal or fish oil or other products from production waste.
Storage of finished products and delivery of processed products to receiving and transport refrigerators at sea.
Design stage
A conceptual design has been developed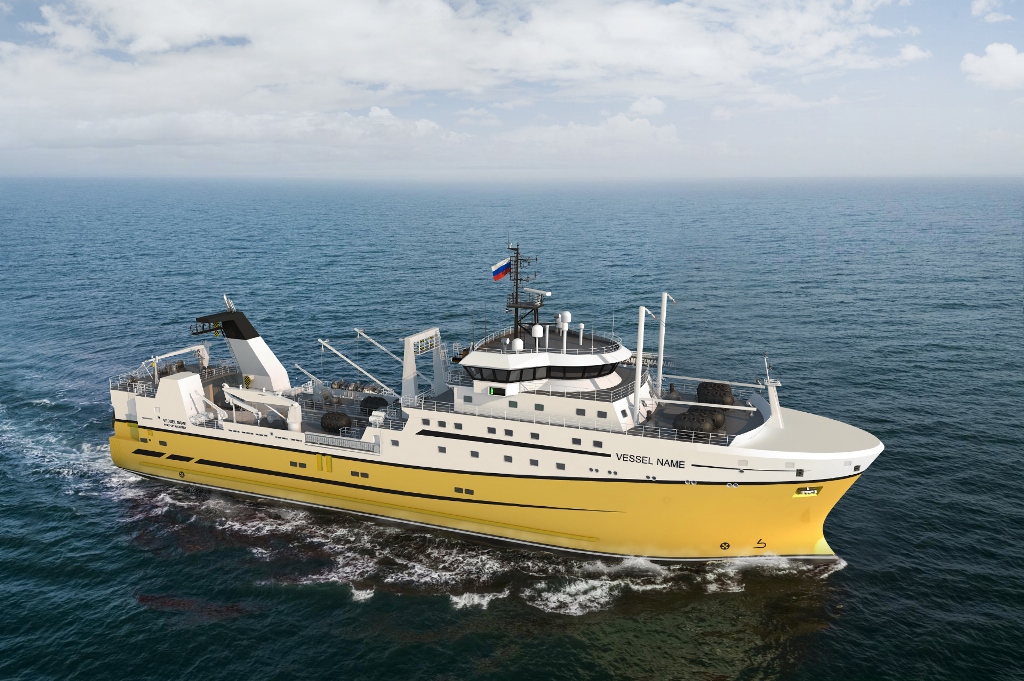 Main Features
Maximum length, m 87.2
Length between perpendiculars, m 80.7
Estimated width, m 18.0
Board height from OP to VP, m 11.2
Board height from OP to GP, m 8.0
Draft on design waterline, m 7.0
Displacement (draft according to GM), t 7100
Volume of cargo holds, m3 3200
Maximum speed, knots at least 15
Trawling speed, knots 6
Autonomy, days 60
Crew, pers. 82
Power plant
Main engines: four-stroke diesel engines, pcs. x kW 1x7000
Shaft generator, pcs. x kW 1x3000
Auxiliary diesel generator, pcs. x kW 2x900
Emergency diesel generator, pcs. x kW 1x170
Chief Designer
Volkov V.V.