VESSEL CLASS
Vessel class - КМ Arc6 [2] АUT1-ICS EPP OMBO ECO-S GFS
PURPOSE OF THE VESSEL
Cruises in the seas of the Arctic and Antarctic, as well as expeditionary cruises in any other seas, including tropical ones.
Due to weather and climatic factors, seasonal operation of the vessel is expected, namely:
In the spring-summer period:
cruises from Murmansk to Svalbard, Novaya Zemlya, Norway, Iceland lasting 7-14 days;
cruises from Reykjavik (Iceland) to Jan Mayen Island and the coast of Greenland lasting 7-14 days;
cruise from Murmansk along the Northern Sea Route lasting up to 35 days to Anchorage or Petropavlovsk-Kamchatsky;
In the autumn-winter period:
cruises from Punta Arenas (Chile) to the Falkland Islands and Antarctica lasting 7-14 days;
It is also possible to conduct cruises on passages from the Arctic to the Antarctic and back.
ARCHITECTURAL AND CONSTRUCTION TYPE
Passenger cruise ship, with a dual-fuel power plant operating on liquefied natural gas (LNG) and low sulfur diesel fuel (DF), with two main engine rooms (GMO#1 and GMO#2) and 2 auxiliary engine rooms (VMO) aft No. 1 and VMO No. 2), with an inclined stem, an ice tooth, with an excess freeboard, a double bottom from the forepeak bulkhead to the afterpeak bulkhead, double sides in the area of the ice belt, with a developed five-tier superstructure, with a wheelhouse in the bow, with bow thrusters (PU) and stern VRK.
PASSENGER ACCOMMODATION
Suites with a veranda, pcs 6
Outdoor cabins with a balcony of increased area, pcs 4
Outdoor cabins with balcony, pcs 102
Outside cabins without balcony, pcs 31
Cabins for persons with disabilities, pcs 2
PUBLIC AREAS
Conference hall (cinema hall with bar, theater, lecture hall), main restaurant, 2 a la carte restaurants, grill bar, beauty salon, library, games room, smoking room, observation room, lounge area, spa center, complex saunas and baths, indoor swimming pool, outdoor swimming pool, outdoor promenade decks, skating area, fitness center, indoor observation deck, shops, boats for excursions and folding moorings, diving equipment.
INCREASED ICE CLASS
The ice reinforcements of the Arc6 class vessel allow navigation in the Arctic in the summer-autumn period in sparse first-year ice up to 1.3 m thick and in the winter-spring period in the Arctic in sparse first-year ice up to 1.1 m thick
UNLIMITED AREA AND LONG RANGE
The unlimited navigation area allows the operation of the vessel both in the Arctic and Antarctic waters, and the performance of expeditionary cruises to any part of the world.
A cruising range of up to 10,000 miles allows for long cruises in areas with no infrastructure (Arctic, Antarctic, Northern Sea Route).
INCREASED SECURITY
- double sides in the area of the ice belt, protecting from ice damage;
- 2-compartment unsinkability;
- duplication of propulsion and power plant;
- advanced medical unit;
- Helipad.
ENVIRONMENTAL FRIENDLY
The vessel uses liquefied natural gas (LNG) and low sulfur diesel fuel.
THE HIGHEST LEVEL OF COMFORT
- Passenger cabins of a large area;
- 78% of cabins have balconies or verandas;
- Active system of calming pitching;
- Elegant decor, sophisticated atmosphere of sophistication and luxury.
ACCESSIBLE ENVIRONMENT
The ship has cabins for people with reduced mobility and all the necessary equipment.
EXPEDITION EQUIPMENT
- Boats-tenders for the delivery of passengers to the shore;
- Boats for delivering passengers to the unequipped coast, as well as for observing the fauna;
- Diving equipment.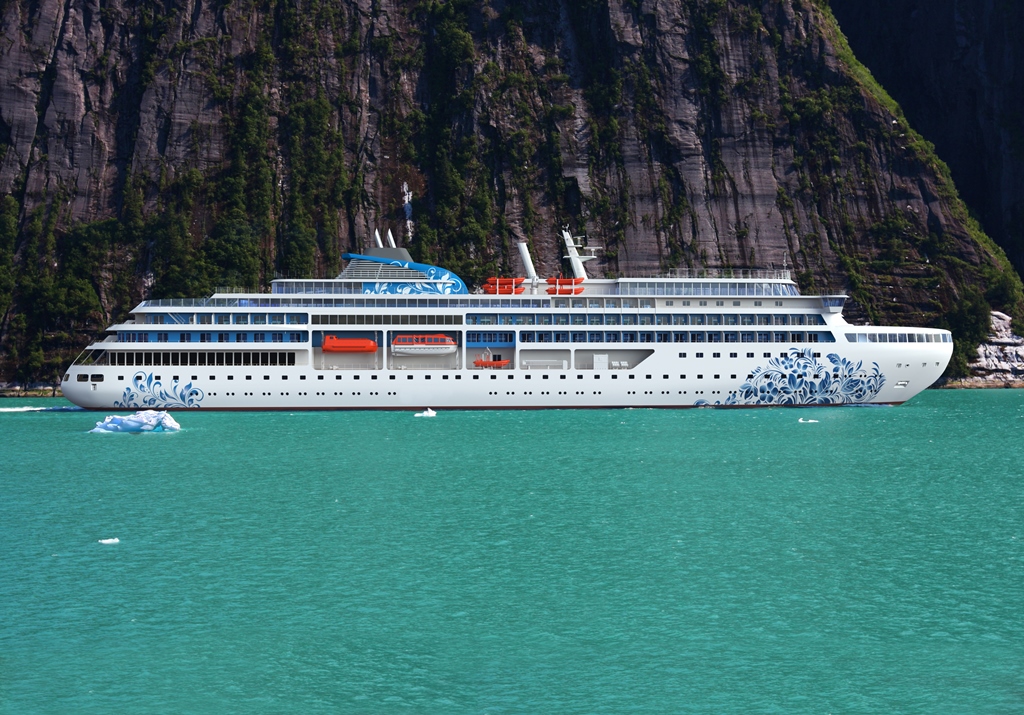 Main Features
Maximum length, m 163.0
Length between perpendiculars, m 146.2
Maximum width, m 23.5
Board height to the upper deck, m 13.9
Draft on design waterline, m 7.5
Travel speed, knots 17
Autonomy of navigation, days for liquefied natural gas LNG reserves up to 12
Autonomy of navigation, days for reserves of low-sulphur diesel fuel + LNG up to 35
Autonomy of navigation, days for provisions up to 35
Crew, pers. 192
Passengers, pers. 292
Main diesel generators (GDG), units/kW 4/6000
Steering propellers (VRK), piece/kW 2/700
Booklets
Gallery