VESSEL CLASS
Р1,2 (ice 20) A Russian River Register
PURPOSE
Regular intracity passenger transportation along the rivers in Moscow.
NAVIGATION AREA AND OPERATING CONDITIONS
Swimming on route intracity lines in Moscow and other pools of the category "P" with the possibility of year-round operation when swimming in broken ice.
ARCHITECTURAL AND CONSTRUCTION TYPE
Single-deck river vessel with an enclosed passenger saloon, with an engine room in the stern and a wheelhouse in the bow.
PASSENGER ACCOMMODATION
Passengers are accommodated in the passenger compartment, equipped with 48 seats. Also, there is a platform used to accommodate bulky luggage (bicycles, strollers, etc.). On this platform, there are additionally 2 folding seats, and there is also a place to accommodate a passenger in a wheelchair. The ship's equipment allows transportation of persons with reduced mobility. The sanitary facilities are represented by two toilets in the aft part of the cabin, one of which is designed for a passenger with limited mobility.
In the stern of the vessel there is a platform from which boarding takes place. In summer, it can also serve as a walking platform for passengers. Bicycles and other bulky luggage can also be placed on it.
Finishing materials, armchairs and other interior equipment are made in anti-vandal design. For the comfort of passengers, an air conditioning system is provided.
Wi-Fi and USB sockets for charging mobile devices are provided on board.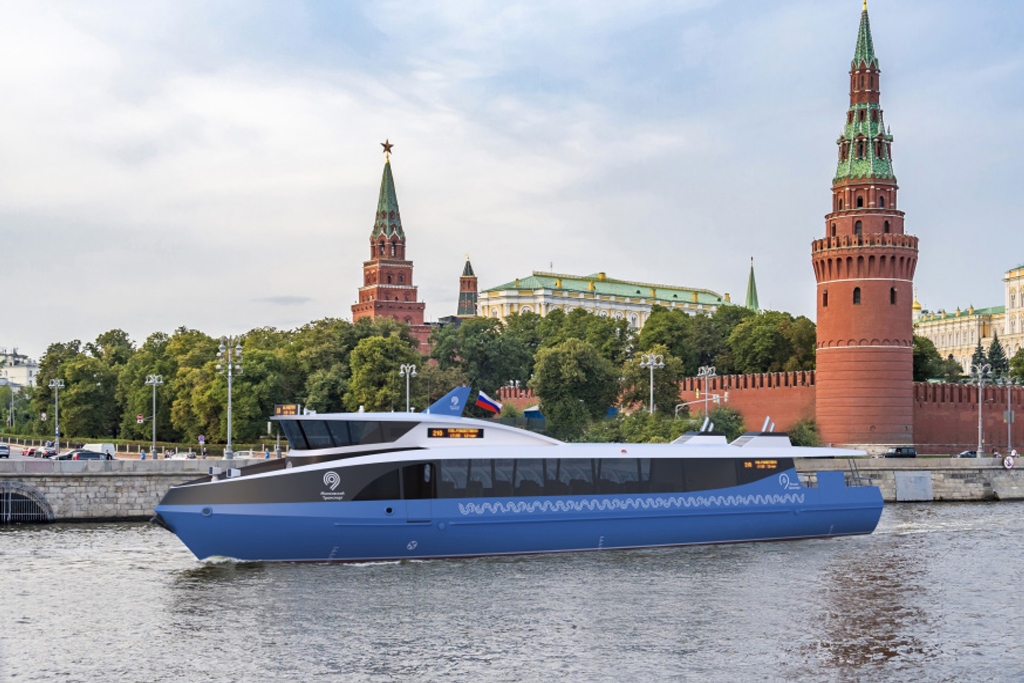 Main Features
Maximum length, m ............................................... ......................................29
Estimated length, m ............................................... .........................................27
Maximum width, m ............................................... .................................5,6
Board height, m .............................................. .................................................2 .6
Draft, m ............................................... ................................................. ........1.3
Autonomy in terms of fuel reserves, days .................................... not less than 1
Crew, people ............................................... ................................................. .......3
Passenger capacity, persons ............................................... .........................58
- ordinary places, people .............................................. ...................................48
- folding seats, people .............................................. ................................................2
- standing places, people ............................................... ...................................7
- places for people with limited mobility, people .............. 1
Speed in finely broken ice, km/h, .......................................... ................15.0
Power, kWt............................................... ............................................... 2x300
Booklets
Gallery