VESSEL CLASS
KM [1] Arc5 (hull, machinery) AUT1-ICS OMBO ECO-S GFS Tier III EPP HELIDECK Ro-Ro Passenger ship of the Russian Maritime Register shipping
PURPOSE OF THE VESSEL
Year-round performance of passenger (including tourist) transportation and transportation of rolling cargo on the line St. Petersburg - Kaliningrad.
NAVIGATION AREA
– Baltic Sea, year-round operation on the St.Petersburg - Kaliningrad.
ARCHITECTURAL AND CONSTRUCTION TYPE
Self-propelled vessel with a dual-fuel power plant, powered by LNG and low-sulphur diesel fuel, aft two main engine rooms (GMO No1 and GMO No2), with bulbous bow, with a trim plate at the stern end, with excessive freeboard, with extended superstructure, with helmsman cabin in the bow, with bow thrusters.
SHIP EQUIPMENT
Anchor-mooring winches, pcs ....................................... ......................... 2
Mooring winches, pcs ............................................... ................................... 2
Drop-type rafts, pcs/person .............................................. ............30/25
Lifeboats, pcs/person .............................................. ....................4/60
Speedboat, pcs/person .............................................. .........................1/15
Rescue boat, pcs/person .............................................. ...............................1/6
Maritime evacuation system, pcs .............................................. ................. 4
Outboard ladders, pcs ............................................... ......................................... 2
Thrusters, pcs/kW .............................................. ........ 2/1380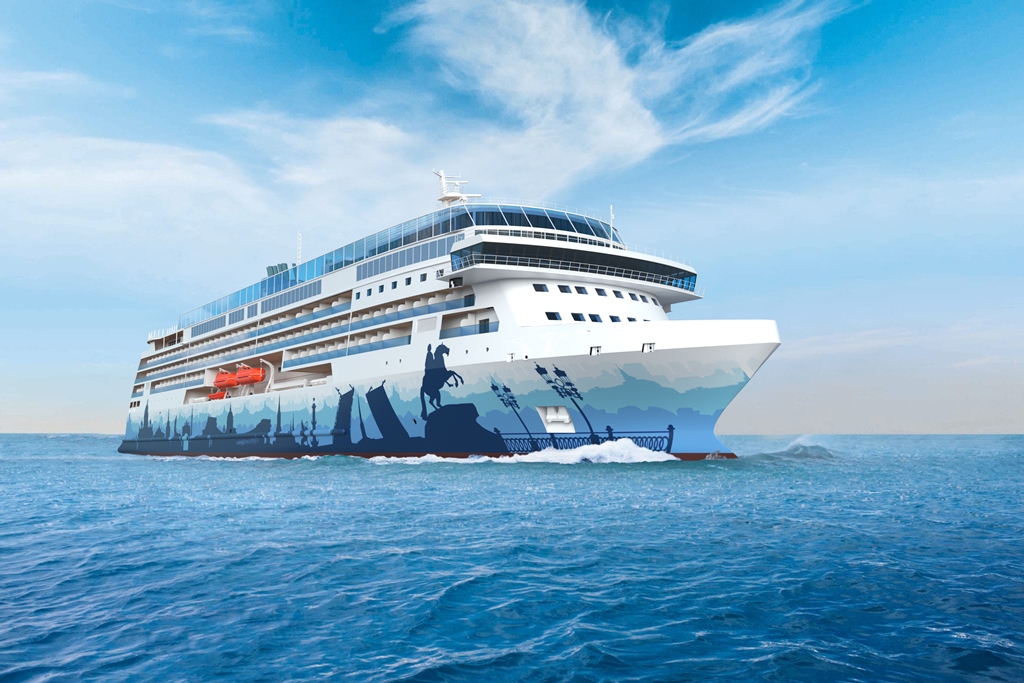 Main Features
Maximum length, m .............................................. ................................. 169.0
Length between perpendiculars, m .............................................. .......... 161.8
Width overall, m ............................................... ................................. 30.2
Maximum width, m .............................................. ............................... 27.0
Height to the main deck, m ....................................... ......................... 9.2
Draft according to design waterline, m .............................................. ............................................... 6.1
Displacement, m ............................................... ............................. approx. 18300
Speed, knots ............................................... ................................................. . 20
Autonomy in terms of provisions, days ............................................... ......................... 7
Autonomy in terms of diesel fuel reserves, miles .............................. 600
Autonomy in terms of LNG reserves, miles .............................................. ............ 600
Crew, people ............................................... ................................................. 180
Passengers, persons ............................................... ............................................... 600
Length of rolling lines, m .............................................. ........................ approx. 500
Power plant
Main diesel generators (GDG), units/kW .............................................. .4/6300
Rowing electric motors, pcs/kW .............................................. ........... 4/4500
Emergency diesel generator, pcs/kW .............................................. .........1/700
Gallery