VESSEL CLASS
KM Arc4 AUT1-ICS OMBO ECO-S Ro-Ro Passenger Ship of the Russian Maritime Register of Shipping
PURPOSE OF THE VESSEL
Year-round transportation between specially equipped ports on the line Ust-Luga-Baltiysk-ports of Germany railway. freight wagons of 1520 mm gauge, including tanks, refrigerated wagons and sections. It provides for the transportation of passengers, cars and trucks, trailers without tractors, other vehicles and tracked vehicles, as well as dangerous goods of classes 1 ... 9 (on flights without passengers).
CAPACITY
Universal freight wagons L=14.73 m 100
Universal freight wagons L=12.02 m 122
Auto trailers, pcs. 92 Cars, pcs. 292
Passengers, pers. 332
PASSENGER ROOM
There are luxury cabins, single superior cabins, double business and economy class cabins, triple family cabins, quadruple economy class cabins. There are a business salon, restaurants, cafes, a canteen, a bar, a shop, gyms, walking areas, saunas, a ship's hospital, and a dental office.
SHIP EQUIPMENT
Aft closure of the carriage deck, pcs. 1
Side port-ramp in the bow and stern (Pr.B) 2
Interdeck ramp, pcs. 1
Locomotive (Unilock type), unit 5
Helipad, units 1
Propeller, piece, type 2хVRSH
Bow / stern PU, pcs. 2/2
Anchor-mooring winch, pcs. 2
Automatic mooring winch, pcs. 4
A modern radio navigation complex, ship's local computer and information network with access via satellite communication systems to high-speed INTERNET, satellite TV.
Special systems:
Automated roll-trim system; braking wagons with compressed air; railway signaling; ventilation of carriage rooms; TV surveillance system for cargo spaces, docking area with the bridge, hatches; strength and stability control.
PROJECT STAGE
Technical project developed in 2010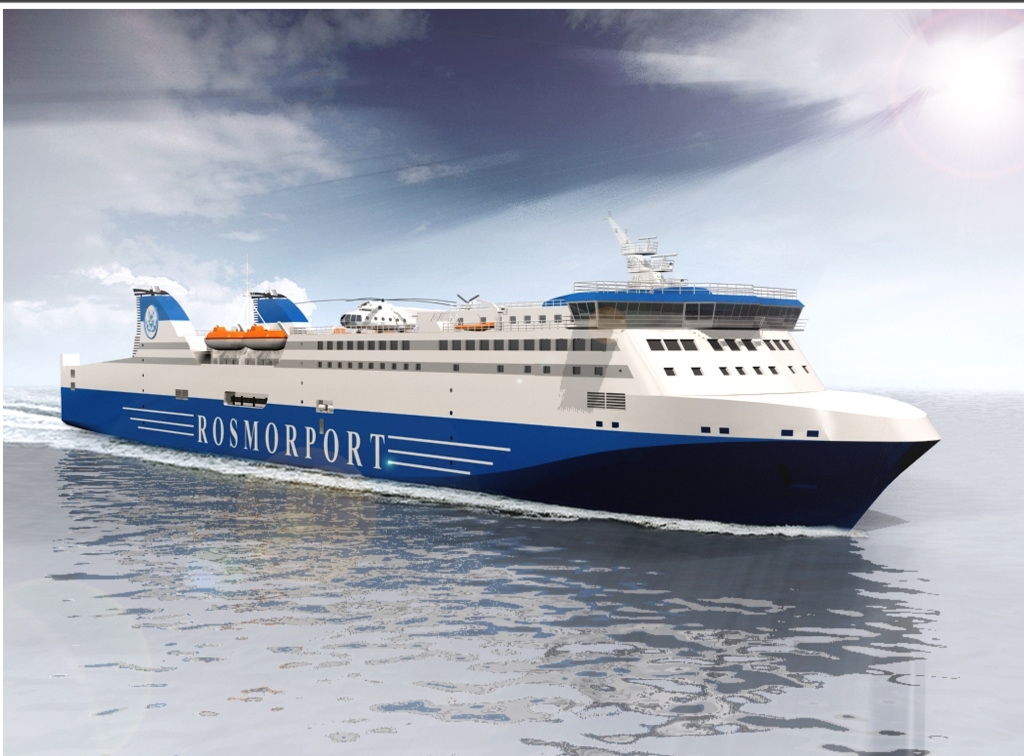 Main Features
Maximum length, m approx. 202.0
Estimated width, m 27.0
Estimated draft / summer load. mark, m 7.0/7.3
Deadweight, t approx. 8470/9830
Length of railway tracks, m 1720
The length of the cargo line for the transportation of rolling cargo, m 1640
Speed, knots approx. 20
Autonomy in the river / in the sea, days 12
Number of seats, units 66
Power plant
Type - diesel gear
Power, pcs. x kW 2x11600
Fuel heavy
Chief Designer
Milavin S.A.
Booklets