VESSEL CLASS
R 1.2 / 0.6 SVP A of the Russian River Register
PURPOSE OF THE VESSEL
The vessel is designed for pleasure and excursion transportation of tourists and high-speed transportation of passengers.
In the period 1983-1999. more than 80 ships of project 14351,14352 "Luch" were built at shipyards in Russia, many of them continue to operate on small rivers, providing transportation of passengers with the possibility of accessing an unequipped shore.
The upgraded Luch-type vessels differ from the basic design in more comfortable conditions for passengers and crew, and increased operational efficiency.
DISTINCTIVE FEATURES
The seaworthiness of the vessel ensures its movement on an air cushion at a wave height of 0.6 m; safe navigation at low engine speeds is guaranteed at a wave height of 1.2 m.
For embarkation and disembarkation of passengers near the unequipped shore in the bow of the vessel there is a gangway with a hydraulic drive.
The passenger cabin and duty room are equipped with upholstered furniture made of modern materials. Hard-burning layered plastic is used for interior decoration. A set of anti-noise measures, ventilation and heating systems for the cabin, duty room and cabin create comfortable conditions for passengers and crew.
Two-way radio communication equipment is available for communication with coastal radio stations and ships.
The ship is controlled by the navigator from the wheelhouse, where the controls for the reversing and steering device and the main engine, control devices and signaling devices are installed.
The ship is equipped with an automation complex that ensures the operation of the power plant without a constant watch in the engine room.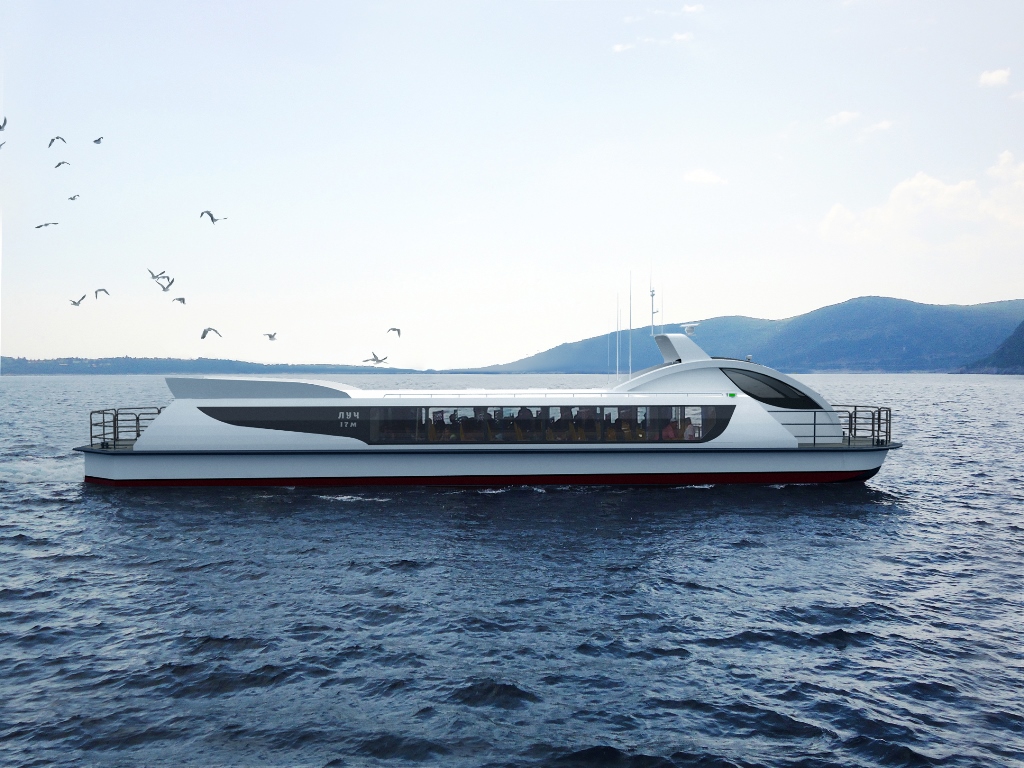 Main Features
Maximum length, m 23.72
Length between perpendiculars, m 21.0
Overall width, m 3.85
Board height, m 1.25 Skeg height, m 0.45
Height overall from OP to the top of non-removable parts, m 3.6
Draft on an air cushion (stern), m 0.6
Draft in displacement position, m 0.67
Speed, km/h 40 Range, miles 323
Autonomy, h 8
Passenger capacity, pers. 57* Crew, pers. 2
Power plant power, kW 382
Hull and superstructure material aluminum alloy
* An additional 15 standing passengers are allowed
Booklets