VESSEL CLASS
KM [2] SES passenger-B of the Russian Maritime Register of Shipping
PURPOSE OF THE VESSEL
The vessel is intended for high-speed transport or sightseeing transportation of tourist groups and transportation of passengers on large lakes, rivers and reservoirs.
Vessels of the basic project "Barguzin" are used for passenger transportation on the lake. Baikal and demonstrate high performance. The modernized project differs from the basic one in more comfortable conditions for passengers and crew, increased efficiency in operation.
DISTINCTIVE FEATURES
The high travel speed significantly reduces the travel time of passengers, and makes it possible for tourists to visit many remote places. The shallow draft allows the ship to approach the shore, as well as to overcome shallow water areas.
Leaving the bow on an unequipped shore, the vessel can, with the help of a mechanized gangway, receive and disembark passengers and tourists in the immediate vicinity of settlements, places of interest and campsites, without the need for berthing facilities.
The seaworthiness of the ship ensures its movement on an air cushion with a wave height of up to 1.2 m, in a displacement position - up to 3 m.
Passengers are accommodated in a cabin equipped with comfortable aviation-type seats. At their service is a buffet, a glazed veranda and an observation deck. There are duty rooms for the crew. A set of anti-noise measures, ventilation and interior heating systems ensure normal living conditions in the passenger and crew premises.
The power plant consists of two main engines, an air blower drive engine, an air blower and auxiliary mechanisms serving the power plant. Propellers are propellers located in the skeg tunnels.
The ship and the power plant are controlled remotely from the wheelhouse without a permanent watch in the engine room. The vessel is equipped with modern means of communication and navigation.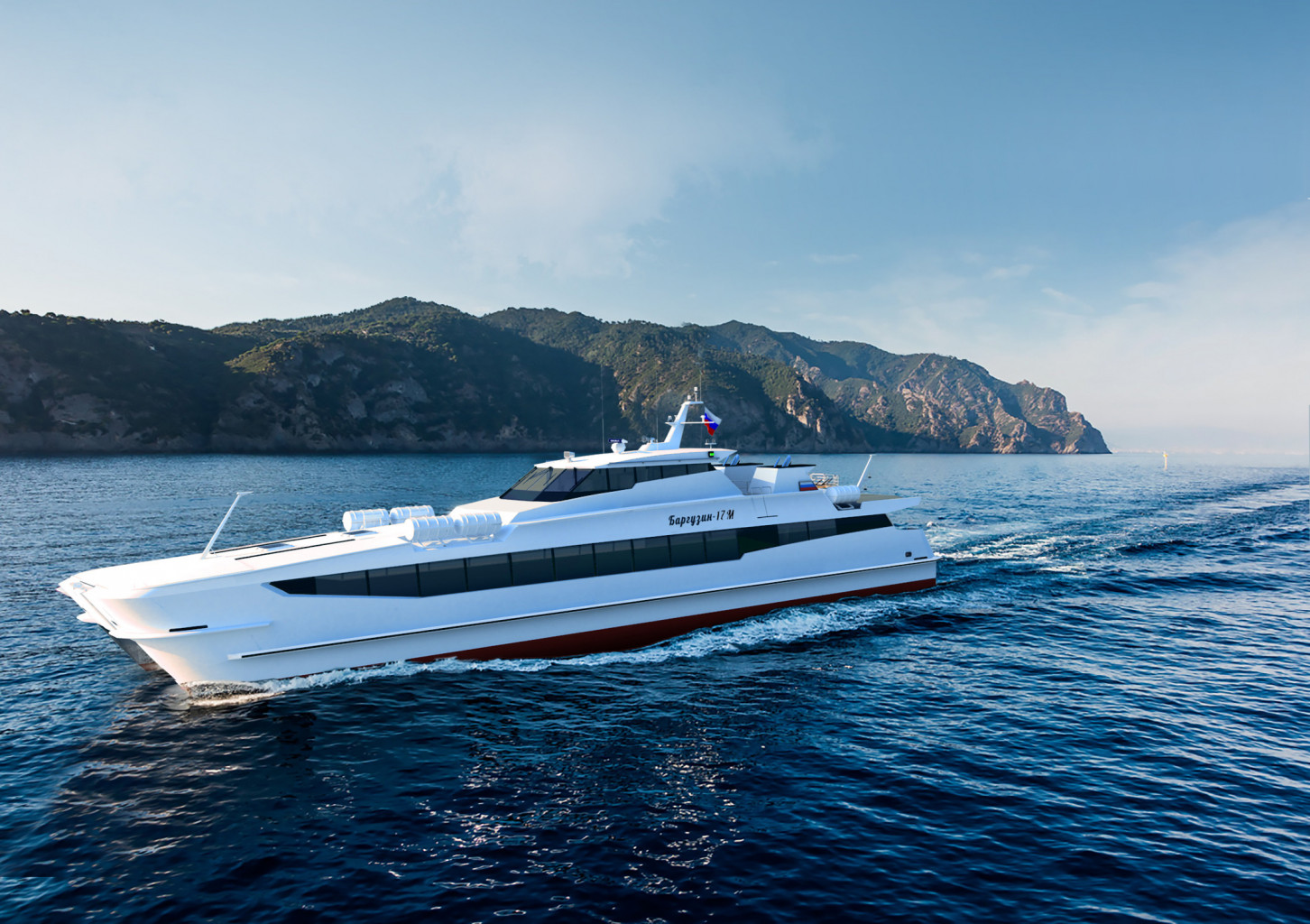 Main Features
Maximum length, m 32.7
Length between perpendiculars, m 30.0
Overall width, m 6.0 Depth, m 2.3
Skeg height, m 1.5
Height overall from OP to the top of non-removable parts, m 7.1
Draft on an air cushion (stern), m 0.8
Draft in displacement position, m 1.42
Speed, km/h 50 Range, miles 320
Passenger capacity, pers. 124
Crew, pers. 4
Power plant capacity, pcs. x kW 2x735
Hull and superstructure material aluminum alloy
Booklets