VESSEL CLASS
KM Arc5 [1] R2 AUT1 FF2WS DYNPOS-2 EPP Supply Vessel, Tug of the Russian Maritime Register of Shipping
PURPOSE
Supply of offshore oil and gas facilities (ONGS) with consumable drilling technological materials, inventories; operations with anchors and moorings of MNGS; installation and underwater technical work using underwater survey vehicles and containerized diving equipment, monitoring and maintenance of the underwater pipeline network; carrying out emergency rescue duty; extinguishing fires at emergency facilities, evacuation of crews, lifting people out of the water and providing medical assistance to the rescued; localization and liquidation of emergency spills of oil products; delivery of replacement drilling crews.
CAPACITY
Gas fuel (LNG), m3 265
Diesel fuel, m3 715
Lubricating, hydraulic and thermal oil, m3 35
Fresh water, m3 265
Ballast, m3 1150
Drilling waste water, m3 1150
Drilling fluid, m3 990
Salt solution, m3 160
Collected oil, m3 1155
Cement, m3 210
Cargo deck area, m3 510
SHIP EQUIPMENT
Anchor-mooring winch, pcs. 2
Mooring capstan, pcs. 2
Life rafts, pcs. x pers. 8x18
Thruster, pcs. x kW 2x1000
SPECIAL EQUIPMENT Mounting crane, t x m 7x20; 20x10
Service crane, t x m 2.7x20; 7x6
Cargo crane with telescopic boom, t x m 0.38x15
Towing winch, pcs. x kN 1x1000
Cargo winch, pcs. x kN 2x100
High-speed rescue boat, pcs. hel. 1x6
Device for lifting people from the water, pcs. x pers. 1x6
Boom-laying workboat, pcs. x pers. 1x8
Fire monitor, pcs. x m3/h 3x1200
Fire pump, pcs. x m3/h 2x2100
Four 20' OSR containers
Set of light diving equipment
Container diving complex for work at a depth of up to 60m
Diving crane beam 0.750 kg at a constant reach of 2 m
Container underwater survey complex with the use of survey-class ROV for operation at depths up to 80 meters.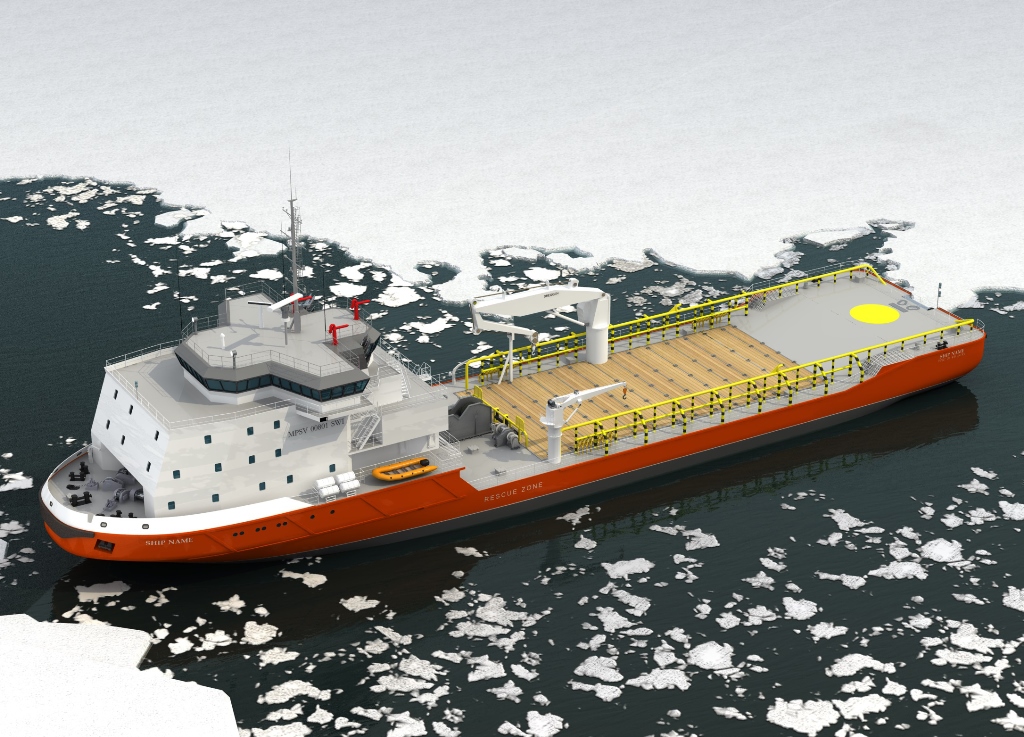 Main Features
Maximum length, m 93.0
Length between perpendiculars, m 84.5
Maximum width, m 21.0
Board height, m 5.3
Draft design / large, m 3.0 / 4.2
Calculated deadweight / maximum, t approx. 957/ ca. 3000
Speed, knots 13
Autonomy, days thirty
Crew/special staff, pers. 20/4
Number of places for the rescued, units 73
Draft on mooring lines, kN 440
Power plant
Type - diesel-electric dual-fuel, powered by two ice propeller-steering columns with a capacity of 2000 kW
Main diesel generator, pcs. x kW 4x1600
Parking and emergency diesel generator, pcs. x kW 1x250
Booklets