VESSEL CLASS
KM Arc4 AUT1 OMBO ECO Timber carrier of the Russian Maritime Register of Shipping
PURPOSE OF THE VESSEL
Transportation of timber (packaged lumber), general cargo, including 20 and 40-foot international standard containers, bulk cargo, including grain and coal, metal, large-diameter pipes, bulky and heavy cargo, dangerous goods of classes 1, 2, 3, 4, 5, 6.1, 8, 9 of the International Maritime Code for the Carriage of Dangerous Goods in Packages.
CAPACITY
gross 11380
holds, m3 21363
Container capacity TEU, pcs.
ISO 20, pcs. 818
ISO 40, pcs. 333+145 (ISO 20)
Carrying capacity during the transportation of lumber, t 10405
Lumber packages, pcs. 2800
ARCHITECTURAL AND CONSTRUCTION TYPE
Offshore multi-purpose timber-packet carrier with ice reinforcements, excess freeboard, one continuous deck, forecastle and poop, accommodation superstructure aft extending from forecastle to poop, three cargo holds, mechanized securing system and water protection of deck timber cargo located on covers hatch cover, diesel power plant with controllable pitch propeller (CPP), engine and boiler room (MKO) in the stern, bow thruster (PU), wheelhouse from side to side.
SHIP DEVICES
Bow thruster, kW 500
Ship cargo crane, lifting capacity, pcs. x t 2x36
Anchor-mooring winch, pcs. 2
Drop-type lifeboat, pcs. x pers. 1x20
Rescue boat, pcs. x pers. 1x6 inflatable life rafts, pcs. x pers.

resettable 1x20.1x6
descent 1x20
The technical design of the vessel 00105 was developed by JSC KB Vympel within the framework of the Federal Target Program "Development of civil marine equipment" for 2009-2016. On its basis, project 00106 timber-packet carrier with a deadweight of about 6000 tons was developed.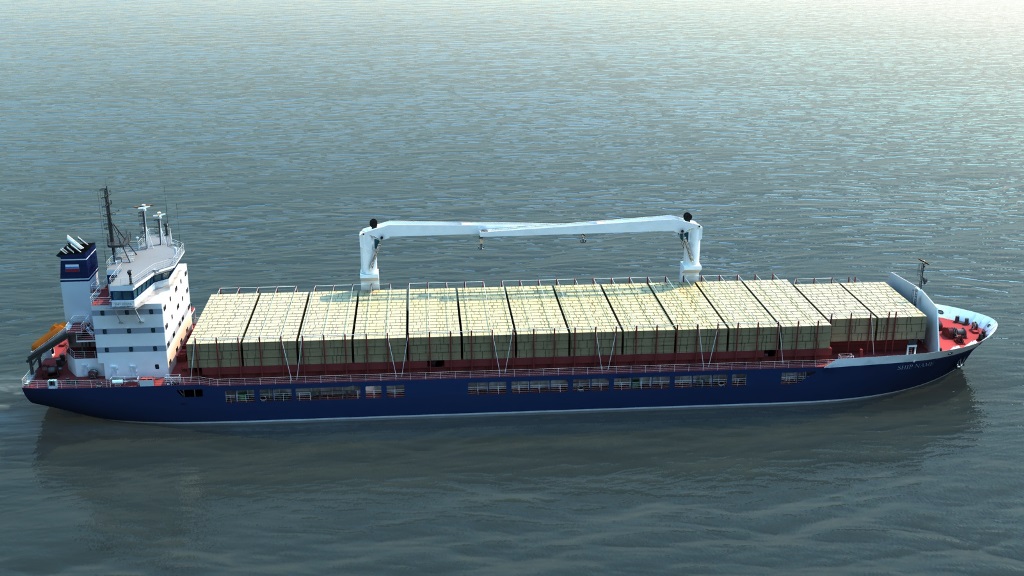 Main Features
Maximum length, m 137.5
Length between perpendiculars, m 130.6
Maximum width, m 23.6
Width on design waterline, m 23.2
Board height, m 10.6
Draft at design waterline, m 8.0
Deadweight when transporting lumber, t approx. 12000
Travel speed, knots 14
Autonomy, days thirty
Crew / total places, including pilot, pers. 16/20
Power plant
Main engine, pcs. x kW 1x6960
Shaft generator, pcs. x kW 1x700
Emergency parking diesel generator, kW 168
Auxiliary thermal boiler, kW 2x1250
Utilization thermal boiler, kW 1x800
Chief Designer
Volkov V.V.
Booklets