VESSEL CLASS
О 2.0 (ice 40) A of the Russian River Register
PURPOSE OF THE VESSEL
Performance of all types of bunkering operations with diesel fuel and motor oils (with sea and river vessels) in the water area of the port of Dudinka and beyond it with restrictions imposed by the class of the vessel, collection of oil products with a vapor flash point above 600C from the water surface in case of a localized spill.
ARCHITECTURAL AND CONSTRUCTION TYPE
Single-deck twin-screw vessel with a forecastle and a poop, with a double bottom and double sides in the cargo area, with an aft location of the engine room and accommodation superstructure, with an inclined stem and a transom stern. There is a bridge between the forecastle and poop.
CAPACITY
Cargo tanks (4 units), m3 1408.6
Oil tanks (2 pcs.), m3 18.2
Cargo holds (2 pcs.), m3 46.8
Oily water tanks (2 pcs.), m3 83.96
Separated oil tank (1 pc.), m3 35.07
SHIP DEVICES
Bow anchor-mooring winch, pcs. 2
Stern anchor-mooring winch, pcs. 1
Resettable life raft, pcs. x pers. 2x10
Work boat, pcs. x pers. 1x6
Boom-laying boat, pcs. 1x15
Cargo electro-hydraulic crane, l/n x max. boom reach 2.0 t x15 m
Beam crane, capacity, t 0.75
OSR equipment set
PLANT-BUILDER
Krasnoyarsk shipyard, the ship was commissioned in 2016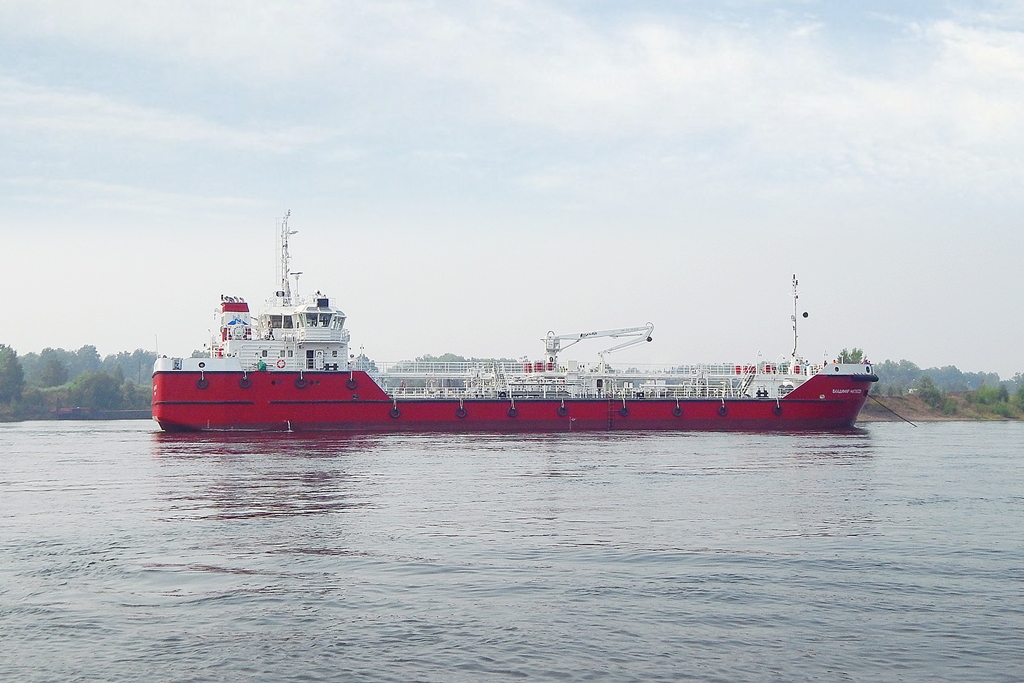 Main Features
Maximum length, m 73.2
Length between perpendiculars, m 69.2
Width on design waterline, m 12.6
DWL draft, m 3.0
Load line draft, m 2.97
Displacement at load line draft, t 2271
Speed, knots 9.3
Экипаж, чел. /количество мест 5/10
Overall width, m 12.9
Amidships height, m 4.8
Autonomy, days 12
Crew, pers. /number of seats 5/10
Power plant
Type - diesel two-shaft with fixed pitch propellers Power of the main engine, pcs. x kW 2x441
Auxiliary diesel generator, pcs. x kW 2x160
Emergency diesel generator, pcs. x kW 1x50
Thermal boiler, pcs. x kW 1x800
Steam generator, steam capacity, pcs. x t/h 1x0.7
Chief Designer
Rabazov Yu.I.
Booklets