VESSEL CLASS
KM Arc4 [1] AUT1-ICS OMBO Oil tanker (ESP) of the Russian Maritime Register of Shipping
PURPOSE OF THE VESSEL
Reception, transportation and simultaneous delivery of up to four grades of oil products without flash point restrictions with a density of 0.7 to 1.15 t/m3. Operation in the northern regions and regions of the Russian Far East.
CAPACITY
Cargo fuel tanks (10 units), m3 3577
Settling tanks (2 pcs.), m3 139 Total, m3 3716
SHIP DEVICES
Bow thruster, kW 1x300
Anchor-mooring winch, pcs. 2
Mooring winch, pcs. 1
Tanker lifeboat, pcs. x pers. 1x15
Rescue boat with outboard motor, pcs. x pers. 1x6
Launchable life raft, pcs. x pers. 1x16
Dumped life raft, pcs. x pers. 1x16
Cargo electro-hydraulic crane, l/n x max. boom reach 1.7 t x16 m
Cargo electro-hydraulic telescopic crane, l/n x max. boom reach 1.85 t x10 m
DISTINCTIVE FEATURES
Tanker with ten cargo tanks, two slop tanks, with a forecastle and poop, with a double bottom, double sides and a longitudinal impenetrable bulkhead in the DP in the area of cargo and slop tanks, with accommodation and engine room in the stern, with a controllable pitch propeller, with driven by a diesel-reduced unit, with a wheelhouse from side to side, with manifolds in the middle and aft parts of the vessel). MCO tanks are protected by a double bottom and a double side. The vessel complies with the requirements of International Conventions, IBC, ILO, OCIMF, ISGOTT.
PLANT-BUILDER
"Ship Repair Center" Dalzavod ", Vladivostok, the lead ship was built in 2018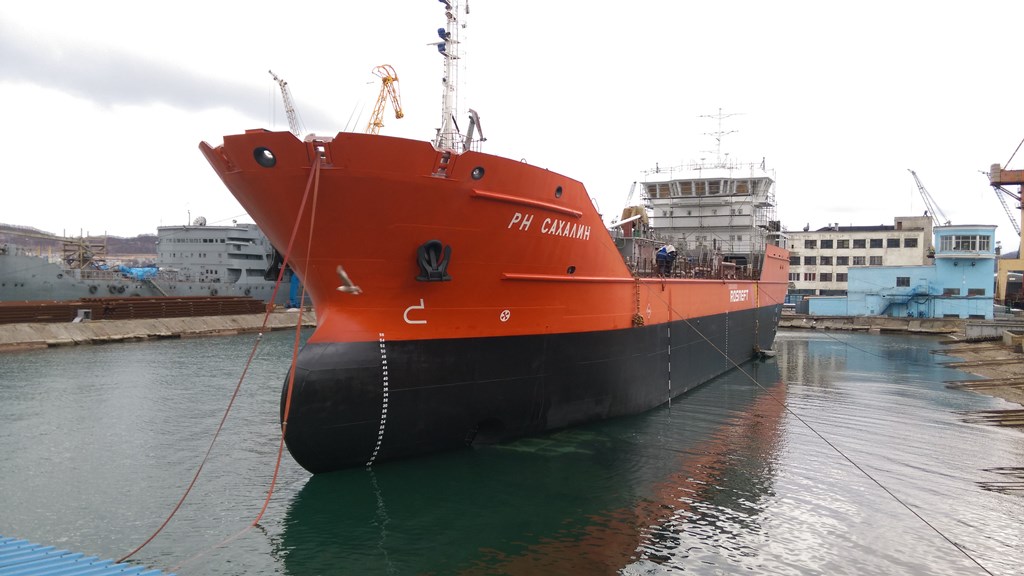 Main Features
Maximum length, m 88.9
Length between perpendiculars, m 83.7
Overall width, m 13.65
Estimated width, m 13.4
Board height, m 7.9
Deadweight (at sea water density 1.025t/m3), t approx. 3100
Speed, knots ca.13
Cruising range, miles approx. 4000
Draft, m 5.41
Crew, pers. 15
Power plant
Main engine power, pcs. x kW 1x3000
Diesel generator, pcs. x kW 2x332
Emergency diesel generator, pcs. x kW 1x160
Thermal boiler, pcs. x kW 2x1500
Waste boiler, pcs. x kW 1x430
Chief Designer
Волков В.В.
Booklets