VESSEL CLASS
KM L1 [1] A2 oil tanker (>60°С) (ORP) of the Russian Maritime Register of Shipping
PURPOSE OF THE VESSEL
Designed for receiving, transporting and issuing to floating technical means of motor fuel of the DT brand, diesel fuel with a vapor flash point above 60 ° C and oil.
The possibility of issuing cargo in sea conditions with waves up to 4 points is provided. The necessary maneuverability is achieved by a two-shaft power plant and a thruster. In the area of cargo tanks, it has a second bottom and second sides, as well as isolated ballast tanks. The rational arrangement of equipment in the MCO and in the wheelhouse was worked out on mock-ups, taking into account the opinions of navigators and ship mechanics.
DISTINCTIVE FEATURES
Double bottom, double sides. Isolated ballast tanks and slop tanks. Submersible cargo pumps. Screwdrivers.
CAPACITY
Cargo fuel tanks (6 units), m3 3041
Settling tanks (2 pcs.), m3 78
Cargo oil tanks (3 pcs.), m3 106
Total, m3 3225
SHIP DEVICES
Anchor-mooring winch, pcs. x kN 2x50
Rescue closed motor tanker boat, pcs. x pers. 1x16
Rescue boat with outboard motor, pcs. x pers. 1x6
Rescue inflatable raft of reentry type, pcs. x pers. 1x16
Drop-type inflatable life raft, pcs. x pers. 1x16
Electro-hydraulic crane
Beam crane, capacity, t 0.25
PLANT-BUILDER
Shipyard "Red Barricades", Astrakhan, the ship was built in 2009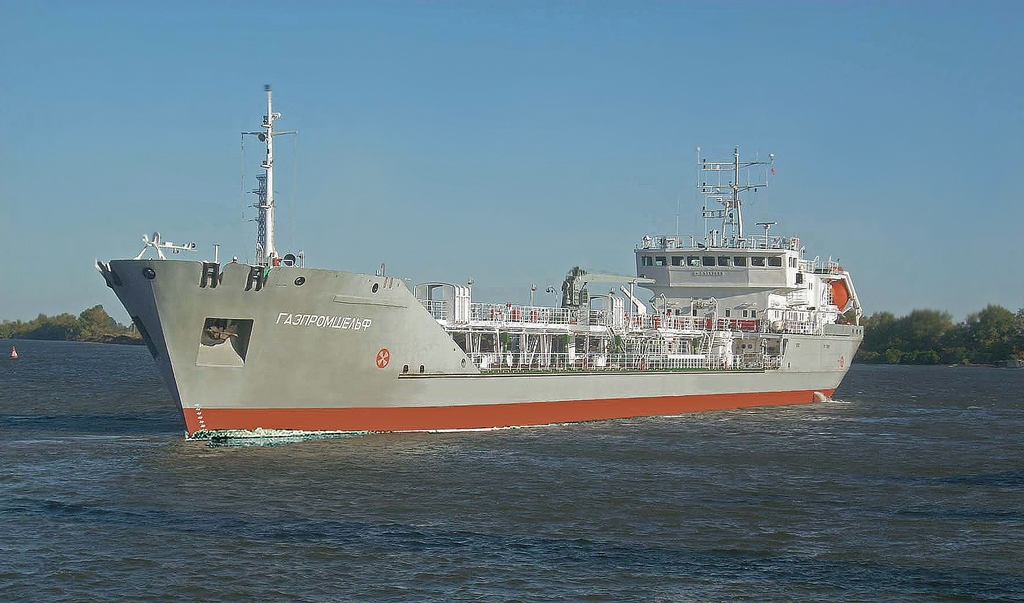 Main Features
Maximum length, m 111.20
Length according to design waterline, m 107.28
Overall width, m 13.48
Board height, m 6.2
Height overall from OP to the top of non-removable parts, m 16.8
Draft, m (in river/sea according to summer load line) 3.75/4.5
Deadweight, t (with a draft of 3.75 m / 4.5 m) 2390/3500
Cruising range, miles 5000 Endurance, days 20
Travel speed, knots 12.5
Crew, people / seats 15/16
Power plant
Main engine, pcs. x kW 2x1360
Diesel generator, pcs. x kW 3x300
Emergency diesel generator, pcs. x kW 1x100
Steam boiler, steam capacity, pcs. x t/h 2x1.0
Waste boiler, steam capacity, pcs. x t/h 2x0.35
Chief Designer
Makarov L.S. Mikhailov L.V.
Booklets
Gallery