VESSEL CLASS
Vessel class - KM Ice1 (hull, machinery) R3 AUT1 DE-Tier III A-Thruster (M) Passenger ship of the Russian Maritime Register shipping
PURPOSE OF THE VESSEL
Cruise voyages on inland waterways of the Russian Federation and in sea coastal areas during the navigation period. In winter, it is expected to be used as a hotel.
NAVIGATION AREA
Sea areas that do not go beyond the territorial waters of the Russian Federation, corresponding to the navigation area R3 - with a wave height of 3% probability of 2.5 m, with a distance of no more than 50 miles from the place of refuge and with an allowable distance between places of refuge of no more than 100 miles, inland water Russian routes subject to restrictions, including the Volga-Baltic Waterway (VBVP), the White Sea-Baltic Canal and the Volga-Don Shipping Canal (VDSK).
ARCHITECTURAL AND CONSTRUCTION TYPE
Passenger ship with a steel hull and an aluminum superstructure with two steerable propellers, with an inclined stem and a transom aft end, with an excessive freeboard, with a developed four-tier superstructure, with a bow wheelhouse, with engine rooms (GMO and VMO) in the stern parts.
PASSENGER ACCOMMODATION
Standard double cabin, pcs ………………………………………………………… .. 31
Standard double cabin with balcony .............................................................................46
2-berth improved layout cabin, pcs ……………………………………………………2
Deluxe, pcs……………………………………………………. ....................................10
Grand Suite, piece…............................................ .............................. 2
PUBLIC AREAS
Restaurant with VIP area and veranda, bar with veranda, music room, wine library, SPA area with massage rooms, sauna and hammam, tr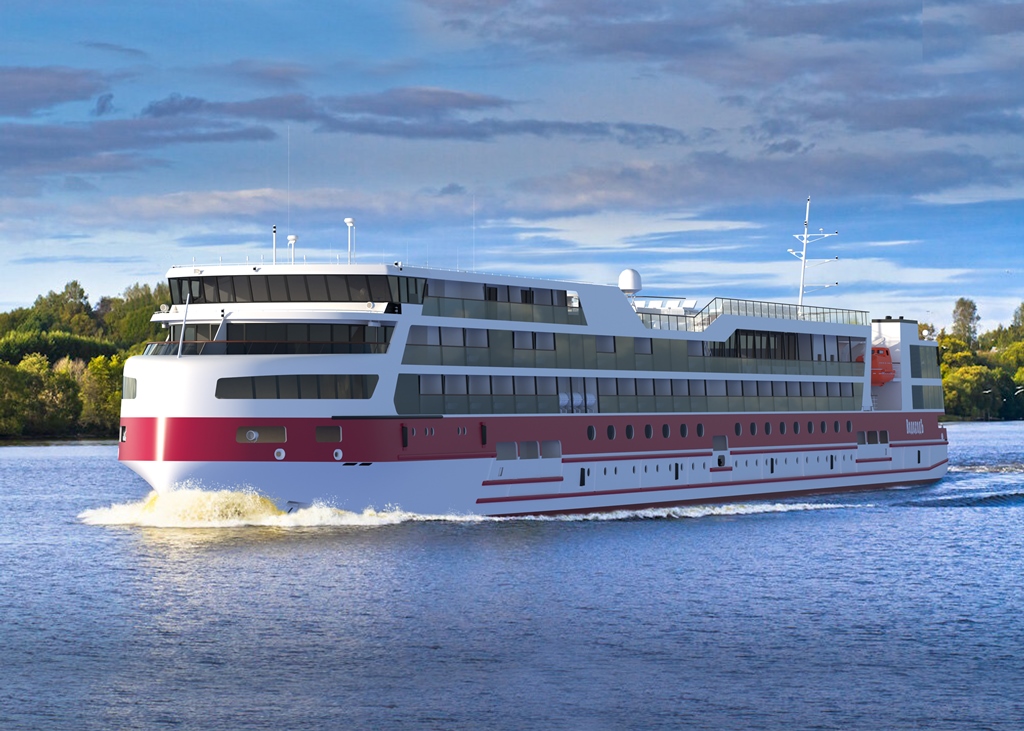 Main Features
Overall length, m ............................................... ........................... 131.0
Length between perpendiculars, m .............................................. ... 126.2
Estimated width, m .............................................. ........................... 13.8
Width overall, m ............................................... ......................... 14.1
Depth amidships, m ....................................................... .................... 6.05
Draft according to design waterline, m .............................................. .................................. 2.9
Travel speed, knots/km/h .......................................... ............................... 12/22
Crew and attendants/seats, pers. ........................... 79/81
Passengers, pers. ................................................. ................................. 188
Booklets
Gallery